You have not accepted cookies yet
This content is blocked. Please accept marketing cookies. You can do this here.
Arcadis will join ReThink 2023, Hong Kong's best-attended and most ambitious business event for sustainable development.
Dr. Margaret Kam, Sustainability Lead, Arcadis Hong Kong will participate as a speaker in the Keynote Theatre.
Hong Kong, 29 August, 2023 – Arcadis proudly announces its participation as a key event sponsor at the ReThink Sustainable Business Forum and Solutions Expo, which will be held on September 14 and 15, 2023 at the Hong Kong Convention and Exhibition Centre, Wan Chai. The two-day conference and expo will demonstrate the business case for a just and sustainable transition, supported by real solutions that will accelerate Hong Kong's journey towards a more sustainable and resilient future.
It is estimated that buildings contribute 60% of total greenhouse gas emissions in Hong Kong, so it is integral to adopt a buildings-first approach when identifying decarbonisation solutions. Dr. Margaret Kam, Sustainability Lead, Arcadis Hong Kong will join the panel session to discuss the role of design in building sustainably as well as the use of green material and renewable energy systems in the construction phase.
Dr. Kam said: "Buildings have a critical role to play in the transition to a low carbon, liveable and sustainable city. Given the urgency of climate action, it is Arcadis' ambition to deliver sustainable outcomes that drive decarbonisation in the built environment." Her insights will contribute to the discussion on key challenges and opportunities in developing Hong Kong's buildings-first approach against climate change.
Paul Scott, Executive Director, Arcadis Hong Kong, said: "It's a real pleasure to be a sponsor to this year's ReThink event. This plays to our core values at Arcadis as we take positive action to improving the quality of life in our communities. Looking forward to connecting with like-minded clients to discuss how Arcadis can support their sustainability goals, as we strive for a better future together."
Building resilience and sustainable cities
ReThink HK addresses the challenges and opportunities of sustainable development. This year seven themed theatres and stages at the expo will host thought-leadership, insight, and debate alongside innovation and practical solutions. Join us and hear insights on Hong Kong's sustainability solutions for infection control and healthcare, carbon removal, smart mobility, and eliminating barriers of entry for implementing sustainability standards.
Online passes to the keynote theatre livestream available here.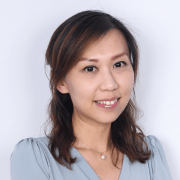 Connect with
Crystal Szeto

for more information & questions.
Crystal Szeto,

Marketing and Communications Manager Contact Crystal